The Book
The hazardous world of Texas Game Wardens comes alive through the pen of Author Mike Bradshaw, a veteran of 35 years experience in this exclusive, historic branch of conservation law enforcement. Now through the pages of Bradshaw's book, he leads you from the very birth of the agency in 1879 as the Texas Fish Commission, through the years of the Fish and Oyster Commission in 1895 and in 1907, the Game, Fish and Oyster Commission, into the challenges of the 21st century with the Texas Parks and Wildlife Department.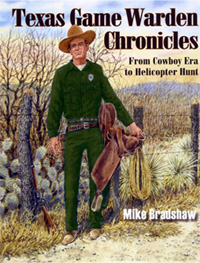 Today's Texas Game Warden deals with complexities diverse as backroom politics, gutless judges, deal making prosecutors, river and bay polluters, and drunken boaters—not to mention having to nab resistant game and fish hogs in flagrant crimes against wildlife. Modern problems notwithstanding, you'll be astonished by the old era. One trial involves notorious bank burglar and train robber Willis Newton of the Newton Boys Gang. Not all trials through the decades were legal, however. In a court dominated by a weak justice of the peace who was away from the courthouse, one warden appointed his own judge. An imposter magistrate meted out "justice."
As you patrol shoulder-to-shoulder with game wardens you'll go hand-to-hand in combat with thugs and spotlighters evading arrest. Jailbreak shootouts, cowboy shenanigans and hilarious arrests—it's all here in Texas Game Warden Chronicles: From Cowboy Era to Helicopter Hunt. Climb onto your horse and gallop alongside a cowboy warden as he approaches a U. S. Army armored patrol vehicle manned by soldiers who have fired a mounted machine gun. It's his first case and the warden discovers the soldiers have killed a white-tailed deer for camp venison. Things tighten up when that gunner swings the muzzle toward the Brush Country Game Warden to prevent his crew's arrest.
Join high-speed automobile pursuits; then roll sans lights as you steer the patrol vehicle down dark ranch roads. Or…next morning along the southern U. S. Border, on a high rock overlooking the Rio Grande and Falcon Lake grab your binoculars. You hope to outfox Mexican commercial fishermen invading U. S. waters to illegally snare Texas fish with gill nets and stack their boats with fish. But at the sight of a game warden patrol boat, they flee in panic and the chase is on! At the wheel of a speeding patrol boat your partner slaloms around jagged tree stumps jutting up from the water and you grip the gunnels. As you trudge dusty grain fields in humid September heat, birdshot occasionally pelting you from the sky, witness the arrest of greedy rogues exceeding their bag limits of white-winged doves. One night you'll crouch behind a tree with a warden as he wrests a shotgun from the hands of an illegal turkey hunter who had plans of blasting unsuspecting turkeys from their roost high in tree. The bad guy squawks in sheer terror.
Hide in the brush with intrepid wardens as they stake out a hunting camp of poachers or shadow a road hunter, his rifle trained on deer browsing by the highway. Read how poachers jump into their own escape vehicles only to be greeted by the game warden sitting in the seat. Later, you'll drag a log to the campfire and savor tales from old time cowboys, ranchers, judges and game wardens telling it like it was.
Tragedy lurks when crooks assault or exchange gunshots with officers. In sobering accounts explaining their circumstances, author Mike Bradshaw pays homage to Texas Game Wardens who died, sacrificing their lives in the line of duty. Honoring these lawmen, a monument stands in Athens, Texas. Bradshaw dedicates the book to twelve colleagues who perished protecting Texans' lives, property and natural resources.
The changing agency that would one day become Texas Parks and Wildlife Department had roots in game management programs that included the eradication of predatory animals and raptors to tilt nature's balance in favor of wild game. Nonetheless, the aerial golden eagle extermination plan would never pass scrutiny in today's "green" consciousness. Other historic programs such as the ranchers' fight against screwworm and fever tick infestations in wildlife and livestock constitute only one example of the pioneering individuals who had a tough row to hoe in their early conservation efforts.
TEXAS GAME WARDEN CHRONICLES
Game, Fish and Oyster Commission's list of Texas Game Wardens appointed in 1907.
Name index of persons.
Glossary of regional vernacular includes Spanish terminology.
Maps of geographical regions, rivers, lakes, counties and towns.
Nonfiction/Texas History/Texas Game Warden Biographies/Law Enforcement/Game Management/Hunting and Fishing/Cowboy Culture/Ranching Heritage
Single Volume, hardbound, 336 pages 8½ in. x 11 in., two columns of text, 150 black and white photographs with captions. Book Price: $39.95 does not include sales tax to Texas residents, or shipping and handling.
Publisher:
Mesquite Bean Press
www.mikebradshaw.org
Copyright 2009 ©